Lacosa Real!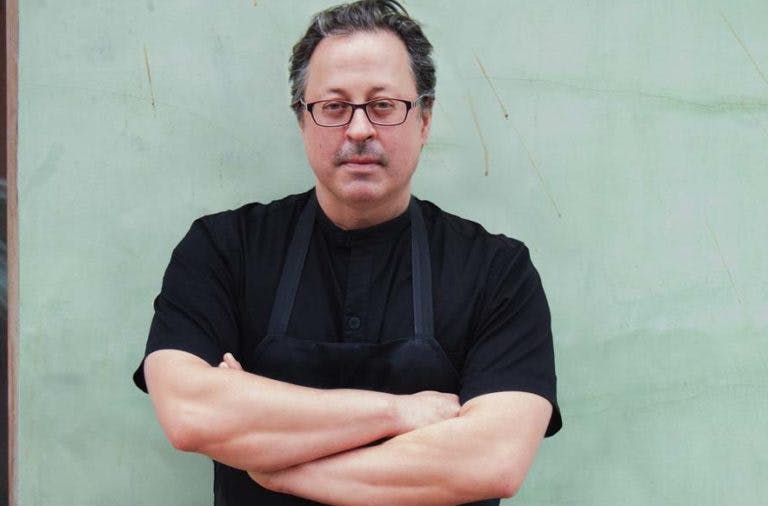 Giving up a career in social psychology to pursue "a lifelong obsession with food," this Bed Stuy chef brings traditional cuban cuisine to a new audience.
BY RICARDO BARRERAS RECIPE AND CHEF PHOTO BY JOHN CHRISTOPHER ALBERICO
When I moved to NYC in 1996 to attend graduate school, the last thing I would have ever imagined was that, thirteen years later, I'd give up a career as a social psychologist and open a Cuban restaurant. Sure, I had been obsessed with food from a very young age, long before the age of celebrity chefs, or the Food Network, for that matter. I'd grown up on all the PBS shows, acquired hundreds of cookbooks, and cooked for large groups of friends and family from the time I was 15, but it never even entered my mind as a career path. After obtaining a Ph.D. in 2003 and after a decade of conducting research, writing, and too much time behind a computer, I saw myself day dreaming of a lifestyle immersed in what I loved most: food, ingredients, and cooking for people.
It wasn't about opening any restaurant, though; it was about opening a Cuban restaurant, embracing a cuisine I was obsessed with and which was, in my opinion, a dying art. Few such restaurants are committed to traditional ingredients, for example, and/or too often bring in others that might be easy and trendy (guacamole, chipotle peppers, chimichurri, salmon, tacos) but not at all Cuban. I believe strongly that this cuisine, when you highlight ingredients that make it shine and take the time to elevate its preparation, is one of the most vibrant, soulful, and satisfying.
My wife, Lisbeth, and I opened Pilar Cuban Eatery in Bedford Stuyvesant in 2009, and we go to great lengths to source items that are central to good preparation, like certain grains of rice, Cuban bread, and cachucha peppers a habanero looking pepper without the heat but with a grassy, herbaceous undertone. That pepper has a noticeable presence in our black beans (recipe at right). We also source real sour oranges, which are very difficult to find and a beautiful fruit a bit reminiscent of Japanese yuzu but one that is too often substituted with a bottled version, which, ironically, contains no sour orange juice. Naranja agria, their Spanish name, is the foundation for the mojo marinade that flavors our slow roasted pork, or lechon asado. For me, pernil (roast pork) is a perfect dish when served alongside rice and black beans, and either yuca or maduros (fried sweet plantains). I hope you feel the same.
Recipe:
MOJO MARINATED ROAST PORK PERNIL WITH MADUROS AND BLACK BEANS (Serves 4)
Mojo Marinade
1 ¾ cups sour orange juice (about 10 to 15 oranges), or ½ cup orange juice, ½ cup grape-fruit juice, and ½ cup lime juice
10 to 12 medium garlic cloves
3 to 4 tablespoons kosher salt
½ tablespoon cumin
1 tablespoon oregano
Preparation: Place all the mojo ingredients in a blender and blend well.
Roast Pork
3 lbs. pork butt (also called Boston butt)
Preparation: Place the pork in a large Ziploc bag, along with the mojo marinade. Take out as much air as possible, place in a bowl, and refrigerate overnight. Place pork in a roasting pan along with the mojo. Cover with foil and cook at 350°F for two hours. Remove the foil, increase the temperature to 450°F, and cook for 20 to 30 minutes to brown the meat. When sufficiently browned, turn over and cook for another 20 to 30 minutes to brown the other side. The pork is done when the meat easily breaks off.
Maduros (fried sweet plantains) 2 ripe plantains, which should be soft like a ripe banana and significantly black on the skin (at least 20%) Oil for frying.
Preparation: Heat oil to 325°F. Cut plantains diagonally (on the bias) about one third of an inch thick and place in the fryer. Cook for roughly 8 to 10 minutes until medium dark brown on the outside. Remove from fryer and place on paper towels to drain.
Black Beans
1 lb. black beans 4 to 6 quarts water
1 medium Spanish onion
1 medium green bell pepper
6-8 garlic cloves, chopped finely
2 medium bay leaves ½ tablespoon cumin
1 tablespoon dry oregano
1 teaspoon white vinegar
3 to 4 tablespoons kosher salt
½ cup extra virgin olive oil, divided 2 to 3 cachucha peppers (optional)
Preparation: Place beans in a pot with 4 quarts of water and bring to a medium simmer. Chop onions and peppers and sauté lightly for 10 minutes in one quarter cup olive oil. Add chopped garlic after eight minutes and cook for a few more, avoiding any browning, then add to the beans. Add the rest of the ingredients (except for the remaining olive oil and cachucha peppers) and cook for a total time of 2 to 2 ½ hours. Beans should break down and naturally thicken the soup. Turn off heat, add the cachucha peppers whole (if using), and let sit for 20 minutes. Puree one cup of the beans, along with the cachucha pepper in a food processor and add back to the soup. Add the remaining olive oil and serve.
WINE PAIRING Viña Maitia Aupa Pipeño
Vino Pipeño is Chilean wine made from ordinary and young grape stock…a classic and usually inexpensive table pour typically served with meats and Chilean dishes. Viña Maitia's version is a blend of 80% País (aka Mission/Listan Negro/Criolla Grande) and 20% Carignan derived from a 25 acre and 120-year old vineyard in the Chile's Maule Valley. Light in color, with subtle suggestions of cherry and rose petals, evolving into dried herbs, fennel, thyme, and oregano, its fresh acid and low tannin qualities bring out the favor in pork without overwhelming it.