Book Proposal: Miami Style, Brooklyn Made: Modern Versions of Classics Cuban Cuisine From Pilar Cuban Eatery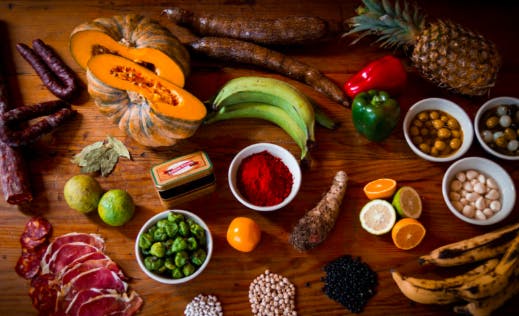 I have a confession to make before I embark on this journey as a self-proclaimed aficionado and lover of Cuban cuisine. As a child, I hated rice and beans. I didn't eat much Cuban food until I was a teenager, besides a handful of staples (arroz con Pollo – a brothy stew of saffron chicken and rice – Cuban sandwiches, Cuban bread, pastries, sweets and an occasional sip of café con leche). I didn't even recognize, at least not fully, my Cuban identity until I left Miami for the University of Florida, in Gainesville, not far from the Georgia border and light years away from my Cuban enclave. It wasn't until people told me I had an accent, or I was made aware of the volume of my voice and the expressive use of my hands during conversations, that my identity as Cuban or Hispanic became solidified.
When I was about 12 or 13, I started cooking with my grandfather. I was lured to the kitchen very early. The fact that the dish we were cooking –arroz con pollo – was made with beer, made it all the more enticing as my grandfather would let me sneak in a swig when my parents weren't around. The dish started with a base of chicken bouillon, beer, sofrito and spices, and about two cans of beer. Then suauteed chicken marinated in sour orange was added, along with garlic and spices (the magic "mojo criollo"). The chicken, beer-laced broth and short-grain rice (we used the "Valencia" brand ubiquitous in all Cuban households) were all combined in a pot and cooked together. While it was cooking, my favorite thing ever was to dip fresh Cuban bread into the cooking broth. After about 20 minutes, the result was a risotto-like consistency, that was simple yet deep in flavor and with a buttery consistency from the starches released from the rice. That, combined with the mandatory fried and caramelized sweet plantains, an avocado and onion salad doused in olive oil and some more Cuban bread was, and still is, one of my favorite meals ever.
My love for cooking, and for Cuban food, grew exponentially in my teen years. Many years later, after a stint as a research psychologist, I came to New York City and opened a tiny (less than 400 square feet) Cuban eatery in the Bed Stuy neighborhood of Brooklyn. As many Cuban Americans living in NYC would attest, finding authentic Cuban food was not that easy. These restaurants so often felt the need to fetishize the decor with overly kitsch memorabilia (an abundance of Cuban flags, pictures of Cuban scenery painted all over the walls and a gentleman rolling cigars in the corner) which gave it a sort of Epcot-chic vibe. They also felt the need to "fusionize" their dishes (e.g. mango-glazed salmon), and obfuscate classic dishes with alien ingredients (chipotle mayo in Cuban sandwiches) or include dishes completely out of the realm of Cuban cuisine (sorry, that delicious Mexican corn slathered in mayo and aged cheese is not Cuban). There always seemed to be guacamole and chips on the menu, and tacos and quesadillas.
I felt strongly that there was a serious need for some classically prepared Cuban food, food that honored the tradition and history of Cuban food culture and ingredients, and took seriously its roots, while contextualizing it within modern day forms of consumption and the aesthetics of how we think about food today. This book is about the Cuban food that I grew up with in Miami in the 70s and 80s. I want to honor classic Cuban cuisine by understanding its roots, and how they came to be, while at the same time elevating and modernizing it without altering its DNA. Sometimes elevating may mean using very high-quality ingredients (such as actually using saffron in saffron rice) and searching out the best olives and roasting your own red peppers, both common garnishes. This approach requires attention to detail. Just because its comfort food doesn't mean you just put everything in a pot and let it go for a few hours. There should be constant tasting and adjusting for such things as the perfect is amount of salt, acidity, viscosity, seasoning and cook time.
For me, this constant tasting and adjusting involves decisions about how much is too much. Would a Cuban sandwich, for example, be better with a fancy Dijon mustard rather than plain yellow mustard, which I personally don't like? How about instead of the typical deli ham, we use a dry-cured Spanish serrano ham? I strongly believe that in a Cuban sandwich, plain yellow mustard provides a better level of acidity to balance the delicious layers of porky lipids these sandwiches are famous for and serrano ham has a completely different flavor profile, texture, moisture and salt content. I do, however skip the typical deli meats and the serrano, and use a top-quality smoked bone-in ham for our Cuban sandwiches.
In this book, I provide the recipes and procedures that have emerged from seven years of research — learned from constantly testing and tweaking different recipes and spins. These recipes and procedures are based on personal preference and ample customer opinion, often Cuban and with very strong opinions about how something Cuban should taste like. This has often proved difficult. For instance, would adding some leeks and a bit of fennel in my crema de malanga (a creamy soup made of a super starchy and earthy tuber called malanga, or taro root) elevate the dish or make it look too Frenchy? In the end I kept the leeks, which is in the onion family, a common Cuban ingredient, and threw out the fennel bulb. I still think the fennel would add nice flavor, but it's just not Cuban, changes the flavor profile and there's enough going on without it. Less is more in this example.
In this book, as in my cooking style for the restaurant, I try to incorporate as many Cuban ingredients as possible, while staying away from foreign influences. Our food, and the food discussed here, is not trendy, it's not fusion and it's not gourmet. Rather, it's comfort food that's executed with the best ingredients, cooking techniques and with the goal of making the best expression of each dish. Our goal is always to make the quintessential bowl of black beans, or plate of arroz con pollo, or the perfect croquette.
In my own recipes for our restaurant – Pilar Cuban Eatery – I begin from this vantage point, but I have also tried to imagine how Cuban cuisine would have evolved without the effects of the U.S. Cuban embargo, which dramatically limited the ingredients the Cuban people had access to. Thus, in Cuba, many dishes have disappeared, and many new adaptations have emerged. And in Miami and South Florida more generally, the evolution of Cuban food has typically taken the form of Nuevo Latino cuisine with pioneering chefs like Douglass Rodrigues and Norman Van Aken, creating incredible, pan-Latin food that brings together an array of ingredients and styles from across Miami and Latin America. However, little effort has been made to revitalize the old classics.
For each dish, I've looked at dozens of different recipes, and I try to provide the quintessential version of each dish, while discussing variations, whether regional or personal. Take the iconic black beans. Some like to top it with chopped raw onions, but usually not. Some use just a touch of plain vinegar, some don't. Some are soupier than others. These variations are typical. However the Cuban black beans that I grew up with never had cilantro or sour cream on top. I strongly believe these items alter the whole composition of black beans, which are supposed to be dark, one note, seasoned well, but it´s all about the beans. If you taste the cumin, you've gone too far. It's about how they complement the rice, meats and root vegetables on the plate.
As with many Cubans, I could be a little militant about how a dish should be. In the constant exercise of understanding Cuban food outside of my own experience, I've tried hard to see how many other Cuban and Cuban descendants eat, about regional differences (which you don't hear much about) and about class differences as well. Most importantly, is the difference between Cuban food in Cuba and outside of the island, before the Castro revolution and in the decades following it. I'll save that for a completely different book. In the end, I would like to leave readers with a deeper understanding of the roots and history of Cuban food, of why dishes came to be, of how they could be elevated and why certain foods are just fine the way they are. Just make it with the best ingredients, with attention to detail, a solid recipe as a framework, with time and care and with a respect for the flavors of the past. I first learned this lesson when I put black pepper in my black beans, and my grandmother scolded me, "frijoles negros nunca lleva pimiento," or, "black beans never take pepper." I've never used black pepper in my beans again.